If you're a fan of online slot games and have a penchant for exploring the mysteries of the deep blue sea, then "Mermaid's Millions" might just be the slot game you've been waiting for. Dive into an underwater world filled with treasures, mermaids, and exciting gameplay.
In this article, we'll take you on a journey beneath the waves as we explore the depths of "Mermaid's Millions," a captivating slot game that promises both adventure and rewards.
A Glimpse Beneath the Surface
Mermaid's Millions is an enchanting slot game developed by Microgaming, a renowned name in the online gaming industry. Released in 2008, this underwater-themed slot has stood the test of time, captivating players with its charming graphics and rewarding gameplay.
The game's theme revolves around the mysteries of the deep ocean, where mermaids, seahorses, and treasure chests await.
Let's dive into the various aspects that make Mermaid's Millions such an engaging and enjoyable slot game.
Gameplay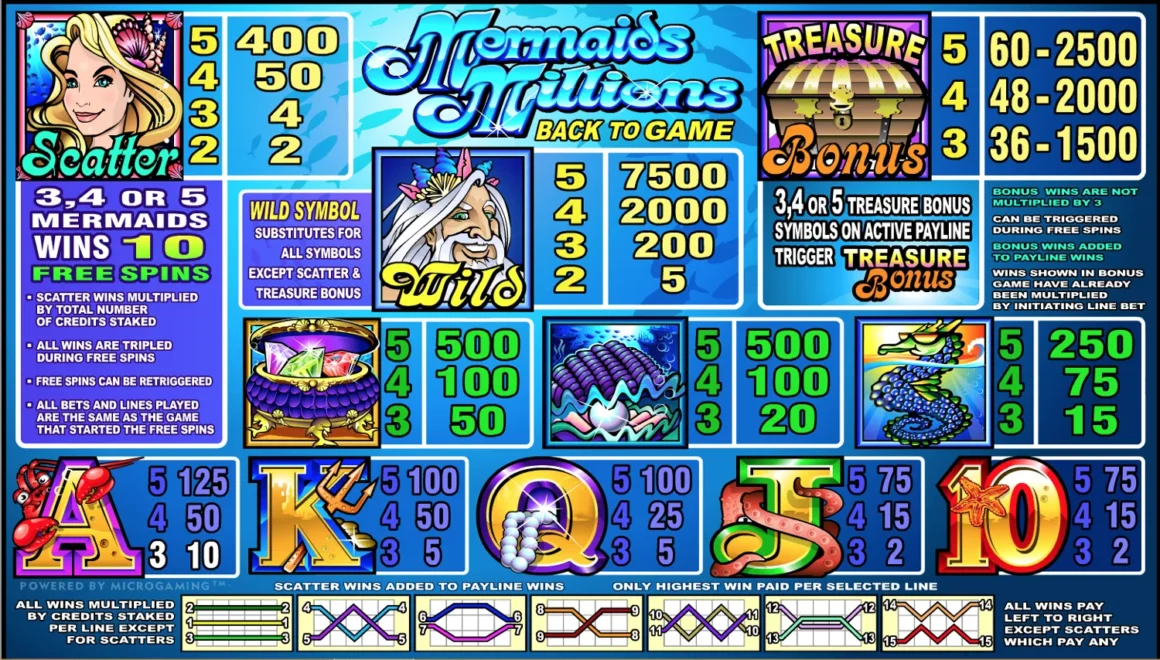 The gameplay in Mermaid's Millions is as smooth as a gentle ocean breeze. It features a classic 5-reel, 15-payline layout that is easy to understand, even for those new to slot games. The game's simplicity is one of its strengths, making it accessible to players of all skill levels.
Key gameplay elements include:
Symbols: The symbols in Mermaid's Millions are a visual delight. You'll encounter mermaids, treasure chests, seahorses, jewels, and traditional playing card symbols. Each symbol has its own payout value, with the mermaid being the most valuable.
Wild Symbol: King Neptune, the ruler of the ocean, serves as the game's wild symbol. He can substitute for any other symbol (except the scatter and bonus symbols) to help create winning combinations.
Scatter Symbol: The mermaid, who lends her name to the game, is the scatter symbol. Landing three or more mermaid symbols anywhere on the reels triggers the game's free spins feature.
Free Spins: When you activate the free spins feature, you're awarded 10 free spins with a 3x multiplier. This can significantly boost your winnings and add an extra layer of excitement to the game.
Treasure Bonus: To unlock the Treasure Bonus, you'll need to land three or more treasure chest symbols on an active payline. In this bonus game, you'll choose from a selection of treasure chests to reveal instant cash prizes.
Visuals and Soundtrack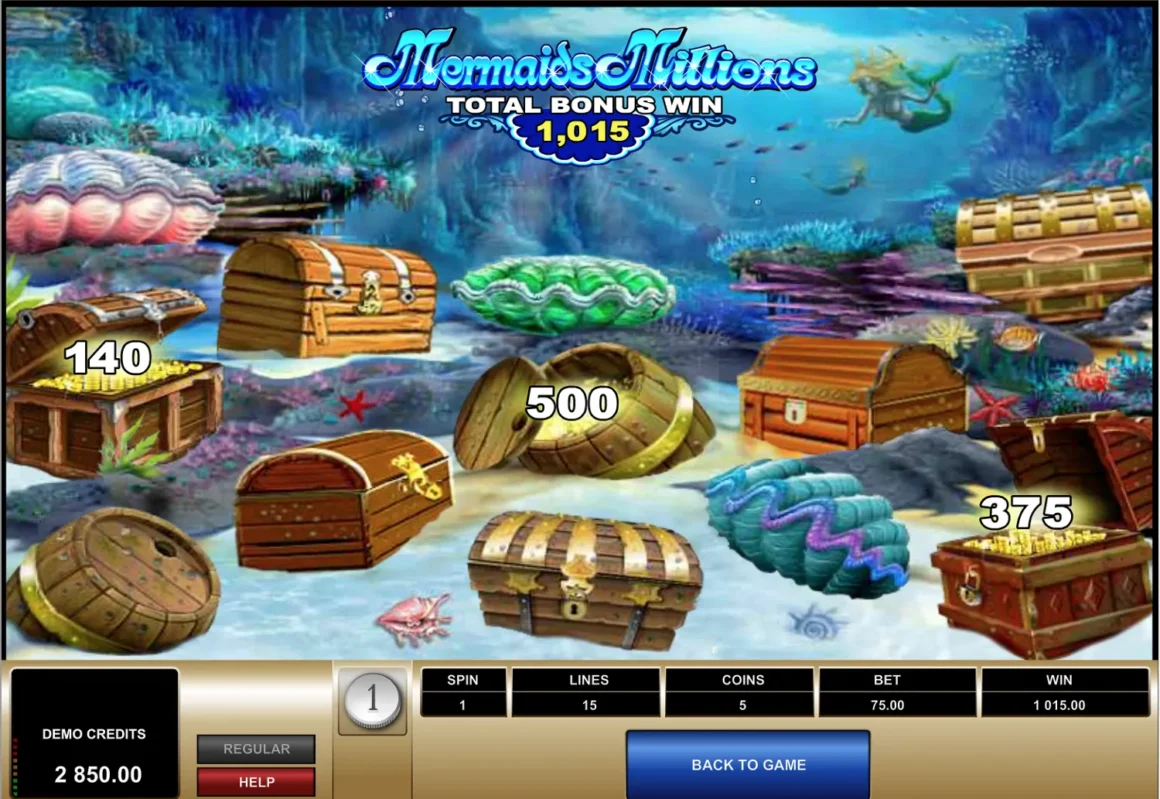 One of the standout features of Mermaid's Millions is its stunning visual design. The underwater world is beautifully rendered, with vibrant colors and intricate details that bring the ocean to life. The symbols are elegantly designed, and the animations are smooth, enhancing the overall gaming experience.
The soundtrack complements the theme perfectly. Gentle, soothing tunes transport players to the depths of the ocean, creating a serene atmosphere. The sound effects, such as bubbling water and the jingling of coins, add a layer of immersion to the game.
Winning Potential
While the visuals and gameplay are undoubtedly enticing, what truly sets Mermaid's Millions apart is its winning potential. The game boasts an impressive RTP (Return to Player) rate of around 96%, which means that over the long term, players can expect a high percentage of their wagers to be returned as winnings.
The free spins feature with its 3x multiplier, as well as the Treasure Bonus, can lead to substantial payouts.
Plus, with a maximum bet, you have the chance to hit a jackpot of up to 112,500 coins. It's this winning potential that keeps players coming back for more underwater adventures.
Mobile Compatibility
In today's fast-paced world, many players prefer the convenience of gaming on their mobile devices. Mermaid's Millions doesn't disappoint in this regard.
The game is fully optimized for mobile play, ensuring that you can dive into the underwater world of mermaids and treasures wherever you go. Whether you're on a commute, relaxing at home, or waiting for a friend, this slot gacor game is ready to provide entertainment at your fingertips.
Where to Play Mermaid's Millions
Now that you're eager to explore the depths of Mermaid's Millions, you might be wondering where you can play this captivating slot game. Fortunately, it's widely available at reputable online casinos. Simply visit your preferred casino, search for "Mermaid's Millions" in the games library, and you'll be ready to start your underwater adventure.
It's important to choose a licensed and regulated online casino to ensure a safe and fair gaming experience. Additionally, keep an eye out for any promotions or bonuses that may be offered, as these can enhance your gaming session and increase your chances of winning.
Conclusion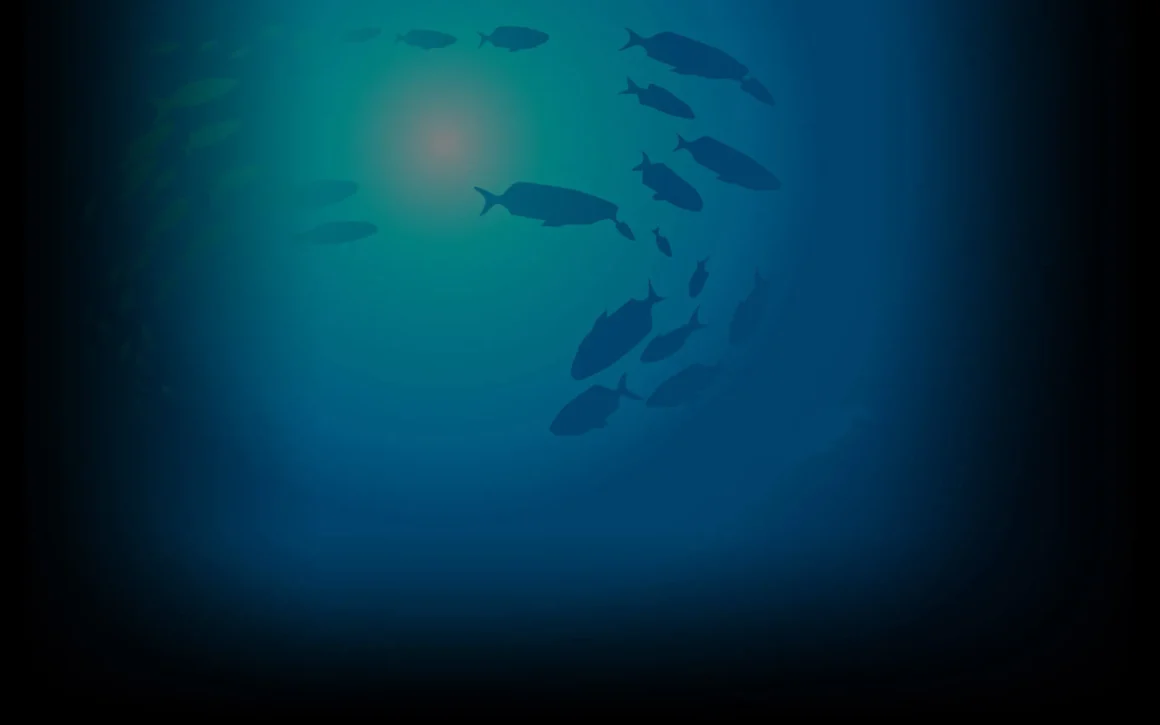 In the vast ocean of online slot games, Mermaid's Millions stands as a shimmering pearl. Its timeless charm, engaging gameplay, and winning potential make it a favorite among players.
Whether you're an experienced slot enthusiast or a newcomer to online gaming, the underwater wonders of Mermaid's Millions are ready to captivate you.
So, don your diving gear, plunge into the deep blue sea, and embark on an adventure alongside mermaids and treasures. With each spin of the reels, you'll discover the magic and excitement that have made Mermaid's Millions a beloved slot game for over a decade.