Counter-Strike: Global Offensive (CS: GO) is the most popular and widely played multiplayer first person shooter game in the world. It has been around for over a decade, with its predecessor Counter-Strike 1.6 still being played to this day.
CS: GO is still king of the FPS. It was released in August of 2012, and it has been around for a while now.
Since its original release in 2012, the Counter-Strike Global Offensive game has reigned supreme in the competitive FPS genre, although many other games have attempted and failed to compete.
However, with the release of new games like as Valorant, some have begun to wonder whether its appeal is finally beginning to wane.
According to statistics, CS: GO is still popular, with some blaming this on the epidemic, when people were obliged to stay at home and therefore had more chances to play.
While this is partly true, there are many additional reasons for CS: GO's continued growth in 2023.
Here are a few reasons why we think CS: GO will continue to develop in the next years.
Skins for sale
Players may quickly get bored after years of using the same skins; however, in CS: GO, players can change their weapon case, purchase new ones, or earn them.
This encourages players to improve their gaming skills. The marketplace now includes missions for earning new skins, gift boxes, and add-ons. All of these enhancements will help CS: GO develop even further.
Amazing live broadcasts, contests, and events
Counter-Strike: Global Offensive hosts local and international competitions on a regular basis, with prizes ranging from $1,000 to $1 million for the majors.
Moreover, the many CS: GO events attract millions of Esports enthusiasts. With CSGO live score, CS: GO fans may watch these events, communicate with other players in real time, and speculate on line-ups and matches.
Because the game structure is so well-known and simple, even casual viewers may get interested in these big tournaments, which match the top players from across the globe against one another.
Free2Play mode is available.
Counter-Strike: Global Offensive is now available in a free-to-play format. The game is available to everyone for free.
This was a significant modification made by the creators since the game's first release. All modes are now available to users for free. It has attracted a large number of participants.
Access to a Simple Server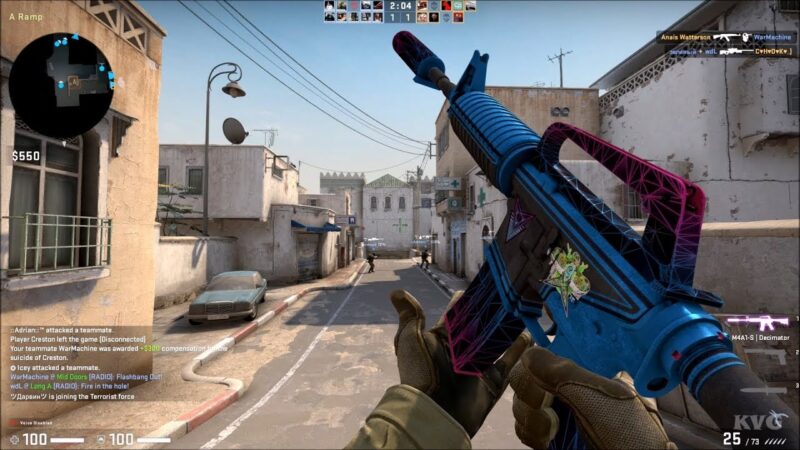 While connected to the server, many of the players play CS: GO. It's unsurprising that on a single day in March 2023, more than 19 million gamers were logged on the CS: GO server.
Another benefit of playing CS: GO is that it does not require a high-speed internet connection.
Not every player has high-speed internet, and they are not required to play Counter-Strike: Global Offensive. To play the game properly, all a player needs is a stable internet connection.
Possessing command over obstructive players
When the game became free2play, more people were able to access it, and it became necessary to manage disruptive users. The game's rules were established by the creators.
As a consequence, the game can automatically detect disruptive activity, often known as smurfing.
Furthermore, there is an auto-mute option that protects the players and is used for those who have broken the rules and are attempting to spoil the experience for the rest of the players.
Celebrities in the game
CSGO will continue to get frequent upgrades from its creator, Valve, which will bring many new and intriguing improvements to the game.
Professional athletes such as Neymar have been seen playing CSGO, increasing the game's popularity. In the game business, CS: GO has a bright future.
The excellent visuals, the constant addition of new maps to the map pool, and the vast array of weaponry available all contribute to a fantastic gameplay experience. We believe that all of these features will help CS: GO remain one of the greatest FPS games for years to come.
Frequently Asked Questions
Is CS:GO the best FPS game?
CS:GO is a very good FPS game, but it is not the best.
How many FPS can CS:GO run?
CS:GO can run at a decent FPS on most computers. However, if you are looking for the highest performance possible, it is recommended to upgrade your PC and/or graphics card.
How do you get the highest fps in CS:GO?
There are a few things you can do to get the highest fps in CS:GO. You can use software such as MSI Afterburner to overclock your GPU, and also make sure your CPU is overclocked as well.